Have you ever looked closely at your eyeglass frames and observed very small numbers printed on the frame? You probably wondered what they were for, and figured it was an industry only piece of information. In reality, those numbers can mean something to you, and being informed about your frames will help you shop for them in the future!
Let's Break Down The Terms
For most frame manufacturers, there are three numbers used to indicate the size of your eyewear. All measurements are noted in millimeters and are either located on the temple or the nose bridge of your frames. The terms used to describe sizing are eyesize, bridge, and temple length.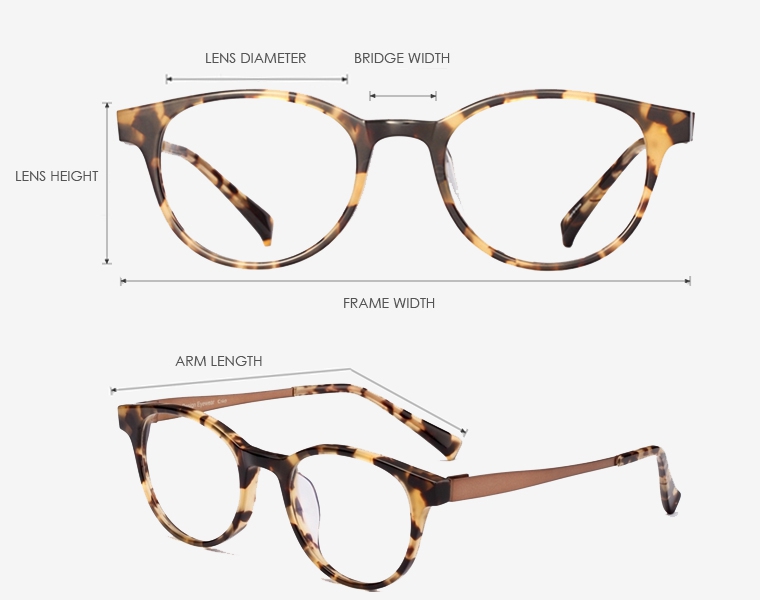 The eyesize is the measurement which denotes the width of your lenses, so when measuring only one lens from left to right, you come up with a rough idea of the size of your glasses. Frames with the same eyesizes can fit very differently, so it is only used as a guideline for future sizing.
The bridge measurement is also referred to as DBL, which stands for distance between lenses. Again being very straightforward, this is the distance between the inside edges of both lenses. This measurement tends to be a little more true to form, in that frames with similar DBLs will fit fairly similarly.
Lastly, the temple length is the measurement of the arms of your glasses, and includes the size from end to end. This aspect of your frames can be imperative if you have a larger sized head. When your temples are too short, your glasses have a tendency to fall off easily. Temple lengths are the most straightforward measurement in the industry, as nearly all frames with the same length will fit the same.
One Size Doesn't Fit All
Now that you know what these numbers relate to, you might realize that there are a very large number of combinations that can occur between the various measurements, creating a huge selection of frame sizes to sift through.
A good rule of thumb is to choose a size that is similar, if not identical, to the size you already have, assuming they fit you properly. Trying on frames before purchasing them is always recommended, just to ensure the best fit possible.
Other articles in this category